International A Level
After successfully passing the IGCSE exams, the AS and A-Level curriculum caters for students aged 17-18, preparing them for University entrance. This two-year programme in selected subjects (normally 3/4) is a great way to bridge the gap between supervised secondary school education and university and college life's independent learning environment. We allow students to work at an advanced academic level but with a great deal of individual support and guidance.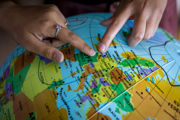 As a Cambridge International Examination Centre, we follow the Cambridge International syllabuses in all our AS & A-Level subjects for public examination. Our subject offerings for 2022-2023 includes:
Art, Biology, Business Studies, Chemistry, English, Geography, Global Perspectives, Mathematics, French, Travel & Tourism and Physics.
At ISF (International School of Flanders), all students are recommended to take 4 AS Level subjects to sit public exams in the October/November of the second year to receive a graded AS-Level certificate. After passing their AS exams, students typically choose their best 3 subjects for their final year's exams for the A-Level examination programme in May/June.
Internationally Recognised Qualifications
Cambridge International A-Level certificates are used to award places by leading universities in over 50 countries within the EU, North America, Far East and the Commonwealth. Typical university destinations are UK, Ireland, USA, Canada, Australia, New Zealand, India, Singapore, Egypt, Jordan, South Africa, France, Belgium, Netherlands, Germany, Italy and Spain.
In the USA and Canada, good grades in carefully chosen Cambridge International A-Level subjects can result in up to one year of university course credit. Over 450 US universities accept Cambridge International AS and A-Levels, including all Ivy League and Ivy Plus universities.
Tutorial Groups – a different learning style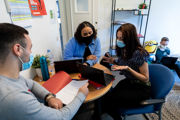 The Class Tutor is the main point of contact for students and parents. Students also receive weekly tutorials on study skills, as well as career planning and university applications. They enjoy greater independence and are allowed to leave campus for lunch each day, providing that they follow the "sign-out and sign-in" procedures.
Using Chromebook computers and Tablets, students access our secure WiFi network to utilise Google Classroom resources, interact with fellow students and get feedback from their tutors to supplement the in-school tutorial sessions. They can also log in from anywhere with their school ID, working on and offline.
Students collaborate by constructing Google Slides presentations for History or by sharing Google Docs presentations for English. They enjoy the challenge of solving problems using Links for Mathematics or the interactive whiteboards in Biology. Physics and Biology students complete practical experiments in our modern Science Lab.
Developing Leadership Behaviours
A-Level students are encouraged to participate in activities beyond the academic sphere. They may take a lead role on the Student Council, gain work experience, or perform voluntary community service. Every year a group of students attend IMUN-International Model United Nations, which have been in Italy, Spain and the UK.
Our students also participate in Creative Arts evenings, exhibiting or performing their work. Every year A-Level students get the opportunity to attend a residential trip, either in Belgium or in another country. Tutorials may also be held outside the school at museums or exhibitions.