Our Campus and Facilities
ISF (International School of Flanders) Waterloo International School is situated on the borders of the Flemish commune of Sint-Genesius-Rode, and the Walloon commune of Waterloo, in Brussels' southern suburbs. Our campus comprises 5 separate buildings, two large playgrounds with different play zones for different age groups, and 2 car parks.
All of our buildings are named after significant people or places in the Battle of Waterloo.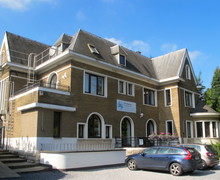 This building was built in the 1920's by a marble merchant. All school visitors are received here.
The offices of the School Leadership and Administration Team are located on the ground floor. The Staff Room can also be found on the ground floor.
The first floor is dedicated to learning French and consists of 3 classrooms, a teacher preparation area and a study room. With The first floor consists of 2 classrooms, a locker area and both the Deputy Executive Head and Social Counsellor´s offices
Wellington House is linked to The Hougomont Arts and Sports Complex by a basement area that houses Music classes as well as a fully equipped kitchen used for special events both by classes and by the PTA.
The Hougomont Arts and Sports Complex
At ground level we have the Papelotte Wing, housing Primary Classes 1-3 (4 to 6 years of age). At the underground level, you can find the Art Room and our full-size Sports Hall.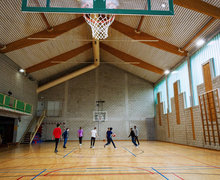 This multi-purpose gymnasium is used for our morning "Jump Start" sessions, for sports lessons, as well as functioning as the school's auditorium and examination centre.
The pull-out tiered seating system can comfortably accommodate over a hundred adults at our regular school shows.


The Buonaparte Centre
Primary Classes, 4-7 can be found on the left-hand side of this building.
To the right, are the Middle School and IGCSE classrooms, as well as our recently updated Science Lab.
Blucher House
This villa houses the Media & Learning Centre. with This villa houses the Library, consisting of a large research area, reading room and study areas for smaller tutorial lessons, for English Language support lessons (EAL) and for use by our Occupational Therapist. The first floor has A Level classrooms, common rooms, kitchenettes and locker areas.
Oranje House
This villa houses our youngest students (2 ½-4 years). Here our Pre-school children have a corner work area, a group time & movement room, a dining room, and a fully equipped kitchen – as well as their own outdoor play area.
ISF International Daycare
ISF International Daycare. The Daycare has its own access point and outside space.
Early Years Playground
In this safe, sanded playground our youngest children have fun building sandcastles, using the swings, slides and see-saw, or inventing games inside the playhouse or on the fire truck.
Big Playground
This large green natural playground consists of different zones.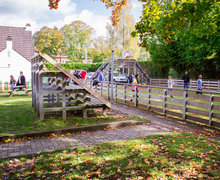 The Sports Zone is equipped with a Multisport Arena by KOMPAN, the Danish premium playground equipment designer.
The Adventure Zone has a zip line, rope courses, slide, swing, balancing beam and stepping stones.
In the Quiet Zone there are picnic tables and a vegetable garden.
In the Tiled Zone students can play human chess, 4 square, badminton, snakes and ladders, or hopscotch – just to name a few!
Car Parking - Staff and Parents can use either of the 2-onsite car parks.
---