Pre-school
Our Pre-School sets an excellent foundation for a lifetime of learning, catering for children between 2 ½ - 4 years of age. We provide a family-oriented setting to support your child's first school experience. Pre-School children take part in all of our whole school activities, such as our annual Winter Show.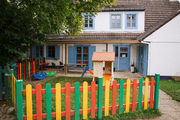 Qualified, caring and creative staff recognise the value of nurturing all of our children as individuals whilst developing their experience within a larger and more diverse world.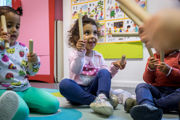 The Pre-School is situated in a spacious self-contained villa, comprising two classroom areas, a lunchroom, kitchen, rest area and age-appropriate toilets. There are two self-contained play areas at the front and the back of the villa and the Early Years Playground with sandpits, climbing frames and toys, which the children use during their supervised morning break.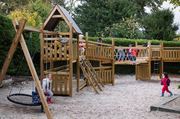 Children acquire important personal skills that help them become more independent and curious about the world around them. They learn how to communicate with each other and with adults, learn how to listen carefully to instructions, and follow instructions. A daily routine gives your child the feeling of security and belonging. Through structured and free play, art & craft, games and songs, your child develops their creative side and broadens their knowledge.
Daily Routines:
Our Pre-School opens at 8:45, and your child's day begins at 9:00. Your child can be enrolled for either Half-day (finishing at 12:30) or Full-day (finishing at 15:30).
A rest period is also timetabled in the afternoon. Children may rest or sleep in our designated rest area with its special equipment.

IPC in Pre-School:
Pre-School follows the International Primary Curriculum for Early Years. This is an internationally oriented program based on thematic units. The children follow a two-year program, covering four different IPC Units each year, such as Sand & Water, All About Me, Bears, Plants & Flowers, Animals, Clothes and Patterns.
Specialist Subjects:
Children visit the library every week and also enjoy the following specialist subject lessons:
French (daily), Music (twice a week), Sport ( 3 times a week),
Educational Apps on Tablets to enrich learning (3 times a week)