International GCSE
At age 14, our students start the International General Certificate of Secondary Education (IGCSE) programme at the International School of Flanders - Waterloo. We provide our IGCSE students with the benefit of small class sizes, dedicated teachers and a diverse learning programme. We believe that these principles offer students the most positive learning environment.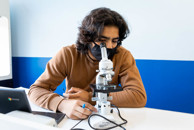 As a Cambridge International Examination Centre, we follow the Cambridge International Syllabus in all our IGCSE subjects. IGCSE is a two year programme from Cambridge and is completed with formal examinations at the end of the 2nd year when students receive an internationally recognised set of graded certificates denoting a standardised formal education level at secondary school.
We offer a broad curriculum with the core subjects being: Co-ordinated Sciences, English (as a First or Second language), Mathematics and Global Perspectives with Elective subjects of Enterprise or Business Studies, French (as a First or Second language) or Travel and Tourism, Geography, History or Art.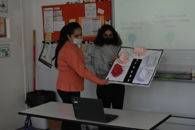 An intensive study programme
IGCSEs are very important. Achieving a good set of IGCSE grades has an enormous impact on the likelihood of being offered a place at a competitive university on a popular course.
Students are encouraged to attend Supervised Study three evenings a week.
Technology enriches our learning.
We believe that using new technologies encourages independent learning, and that is the most appropriate way to impart subject knowledge and develop ICT skills. Students use their school email address to access Google for Education apps and other online material in the classroom and beyond.
Together, teachers and students use Google Classroom to share and submit work, view assignments and share learning resources. Students routinely use Chromebooks, and each classroom is equipped with an Interactive Whiteboard which can access the internet to augment the learning experience.
Developing the whole person - we also know that there is more to life than exam results!
Participation in "House" activities, student council, community service, work experience and extracurricular activities provide additional experiences and skills that are important for life beyond the classroom.
Students are encouraged to join sports or creative clubs at lunchtimes and after school.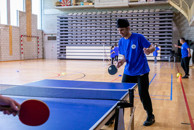 Throughout the year, our IGCSE students have class trips for Science, Art, Geography or History. They may enter educational competitions, participate in Science Day, or take part in volunteering outside of school, or engage in the Creative Arts Evening. Each year IGCSE students get the opportunity to attend a residential trip, either in Belgium or in another country.
Weekly tutorial lessons led by Class Tutors cover study skills and personal, social and health education, as well as Whole School Assemblies and House Team events. The Class Tutor takes lunch daily with the entire class and is the main link with parents, sharing updates about your child's development.
Students may receive learning support comprising additional English lessons or an International Individual Learning Plan for students with a recognised specific learning difficulty.