Middle Years
We follow a curriculum that eases transition from primary into secondary school. We introduce and build important study skills and knowledge, to bring students forward towards their international public examinations at IGCSE and AS/A Level.
In Years 7, 8 and 9 (previously Middles Years 1, 2 and 3) we follow the Cambridge Secondary

Checkpoint curriculum for English, Science and Maths with a modified programme in other subjects on the National Curriculum of England and Wales, tailored to our students needs.
The subjects studied throughout the Middle School are:
English (as a First or Second language), French (as a First or Second language), Mathematics, Science (Biology, Physics and Chemistry), Art, Humanities, Physical Education, Project Management.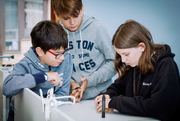 Technology is integral to our learning
All students have a school email address which is used to access a variety of Google Education apps both in school and at home. This platform is also a link between students and their teacher. Google Classroom enables students to view work, submit work, view websites and videos which their teachers have selected.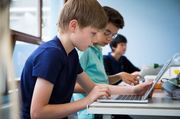 All students routinely use the Chromebook computer provided. Every classroom is equipped with an interactive whiteboard which enhances learning via online resources including video.
Homework is an important part of the curriculum. Students must complete it on time and develop good study habits both at school and at home. To assist them with this they can attend supervised study sessions after school on Monday, Tuesday and Thursday.
Central to our curriculum are the weekly tutorial lessons. These cover study skills and personal, social and health education, as well as Whole School Assemblies and House Team events. The Class Tutor is the main link with parents, sharing updates about your child's development.
Students may receive learning support, comprising of Additional English lessons, or an International Individual Learning Plan for students with a recognised specific learning difficulty.
Throughout the year there are various extra curricular activities, as well as class educational trips. Each year students are also given the opportunity to attend a 3-4 day residential trip.